The Medical Center at Albany
Hours of Operation
24 hours a day, 7 days a week. Individual departments may vary.
Visitation restrictions at The Medical Center at Albany
Inpatient Units
Emergency Department
1 – 2 visitors allowed depending on patient condition. Visitors are interchangeable.
All other units (Outpatient, etc.)
For more information, call 606-387-8000.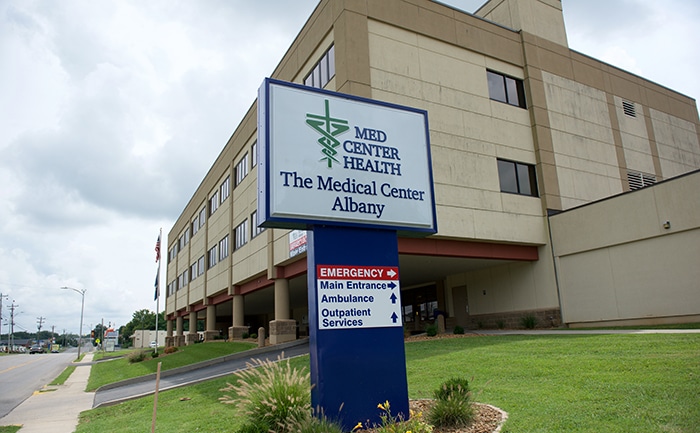 The Medical Center at Albany provides healthcare services to Clinton and surrounding counties in Kentucky and Tennessee. As a 42-bed acute care hospital, we provide the community with first-rate inpatient and outpatient services, including emergency services, 24/7.
As part of Med Center Health, we are patient-focused, quality-driven and mission-led. Our mission is to care for people and improve quality of life in the communities we serve. The Medical Center at Albany combines state-of-the-art technology, unsurpassed personal care, and the finest healthcare professionals to ensure your visit will be the very best it can be.
MyCareCorner
MyCareCorner is an online health portal for patients of The Medical Center at Albany. Having real time access to your health data and to your care team means you're more actively involved in your own healthcare. Learn more or log in.
Note: The Medical Center at Albany's Patient Portal relates to services provided at The Medical Center at Albany ONLY and will not include health information from any other healthcare facilities that you may have utilized for health services.

COVID-19 VACCINATIONS AVAILABLE IN CLINTON COUNTY
The vaccine is available for persons age 12 and older. Anyone under 18 must be accompanied by a parent or guardian. Vaccinations are given by appointment at The Medical Center at Albany. Arrive at the front atrium for screening and you will be directed to the Vaccine Clinic Area.
Schedule a vaccine appointment by calling 606-387-3690. Those with an appointment are asked to not arrive more than 10 minutes prior to their scheduled appointment.
COVID-19 Testing
COVID-19 Testing is available Monday through Friday from 10 a.m. to 2 p.m. A provider's order is required.
Park in labeled parking spaces near hospital Ambulance entrance.
Call the number posted so you can be registered by phone.
A member of the ED staff will come to your vehicle to do the test.
Services and Specialties
Emergency Department
Computed Tomography (CT)
Magnetic Resonance Imaging (MRI)
Digital Mammography
Nuclear Medicine
Senior Perspectives
Respiratory Care
Laboratory Services
Physical Rehabilitation Services
Cardiopulmonary Rehabilitation
Physician Specialists:
Bariatrics
Cardiothoracic Surgery (Heart and Lung Surgery)
Hematology & Oncology (via telemedicine)
Infectious Disease (via telemedicine)
Interventional Cardiology
Orthopaedic Surgery
Psychiatry (via telemedicine)
Pulmonology
Vascular Surgery
the Medical Center at Albany News
The Medical Center at Albany Earns ACR Lung Cancer Screening Center Designation
The Medical Center at Albany has been designated a Lung Cancer Screening Center by the American College of Radiology (ACR). The ACR Lung Cancer Screening Center designation is a voluntary program recognizing facilities that have committed to practice safe, effective diagnostic care for individuals at the highest risk for lung cancer.
See More
---
Committed to Quality Care, Now and in the Future
At The Medical Center at Albany, our history dates back to 1953 when Clinton County Hospital opened to serve the healthcare needs of Clinton and surrounding counties. We have been, and always will be, fully committed to meeting the healthcare needs of our community.
On February 5, 2016 Commonwealth Health Corporation (CHC) assumed management of Clinton County Hospital. In 2016, Clinton County Hospital joined CHC and became The Medical Center at Albany. We continue to operate as a 42-bed, not-for-profit acute care hospital and provide needed access to healthcare for area residents.